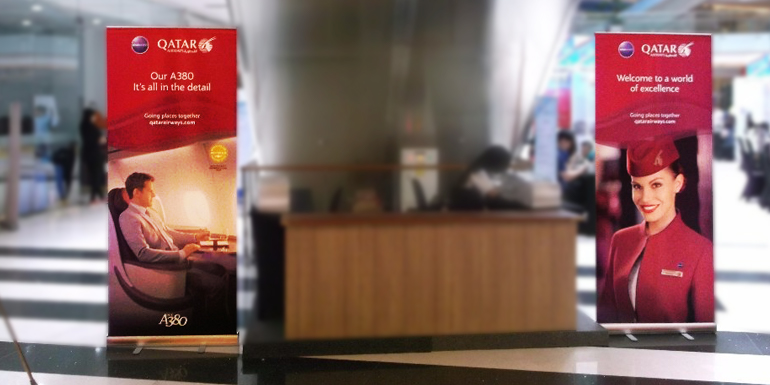 Stand Banner, the Cost-Effective Marketing Tool
Stands banner printing usually come with a sturdy base & don't take up much space. Placed in retail shops, behind counters or at the end of aisles, they become such a powerful sales tool. Promote your services, online products or use for seasonal promotions. Encourage shoppers to contact you for immediate specials.
They are often overlooked as a lasting and cost-effective marketing tool. If you have not used a banner stand for efforts, fit them into your Spring (into Summer) promotion.
Remarketing allows you to deliver advertising on platforms, such as LinkedIn & Facebook, after customers leave a website. For example: have a new promotion? Place an eye-catching stand at the front of your store so people see promotions if they are exiting.
The right promotion may get them to step back Into the shop
Terrific Traditional Uses
Banner stands are a staple at trade shows, conferences and large events
. Before starting at Bali Print, that's the only purpose I knew. Don't just throw a logo and bookend your trade show booth. Include product images, or create a special website url and display it.
Talk about how you use them for your own marketing efforts and consider what banner types for your brand business at a trade show to talk with new customer prospects. Use your branded stand as part of it!
In the Office
Have a new product, promotion or internal campaign running at your office? (Perhaps you support a non-profit such as City of Hope?) Banner stands don't always need to attract new customers. Backdrops communicate what you have going on in-house. Promote internal happenings – upcoming team building events or company party.
Socially Accepted
As social media grows, banner stands and backdrops are part of the conversation. Let's say you have an event planned. Branded backdrops are great for events photos – and a great way to get people together for photos. Encourage your guests to do the same – and share them once the celebration wraps. Be sure to have plenty of banner stands in the background.
Website Too
Those same images should end up in a news, community or product section. Do you have a team page? Write a blog about the event and use the images – share the blog on social media where your banner stands will be viewed in the digital world all over again.
Cost-Effective
If you're in business, chances are budget is (and always is) a concern. There are a variety of banner stand options – while difference stands have different variables, a majority are IDR 450,000 or less (some are more – all depends on needs). For the type of brand exposure you receive – and how long they can last – it is a sound investment.