Artwork File for Prints Production
@ Bali Print Shop
We recommended to send your file to email : cs @ baliprintshop.com or for big file size you can upload your design file to file storage provider like as dropbox, box, drive etc.
Bali Print Shop (BPS, accepts the following file types:
---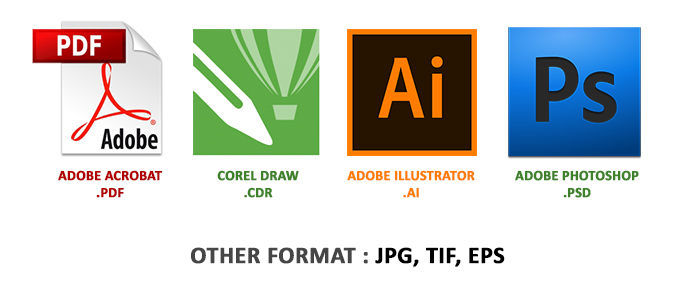 File Requirements and Guidelines
Files are delivered suggested in CMYK / RGB color format ( Not Pantone color)
Suggested file type to get the most maximum result :

Photography :

which contains more pictures than text, should be send the files as JPG format, within resolution of 300 dpi. Try to use images / pictures with good quality, not broken and blur.

Graphic & vector design :

Should be in format CDR ( CorelDraw ) , PDF and AI ( Adobe Illustrator ), make sure to convert Fonts to curve / embed fonts . It is not recommended to send files in JPG format , because the file that contains a lot of text, graphs outline will appear blurry and not sharp , especially if the file will be print in to larger format .

Document Prints :

For printing booklets, magazines, tabloids, it is advisable to send the file in PDF format. Do not use in Microsoft Office ( word, excel , power point ) files format.

Banner Printing

large size banner can transmit into JPG file format, set the file resolution to 100-200 dpi . Set the compression level so that the results remain smooth.

Print outs on any material experience the difference, it depends on the level of material thickness, texture and types.