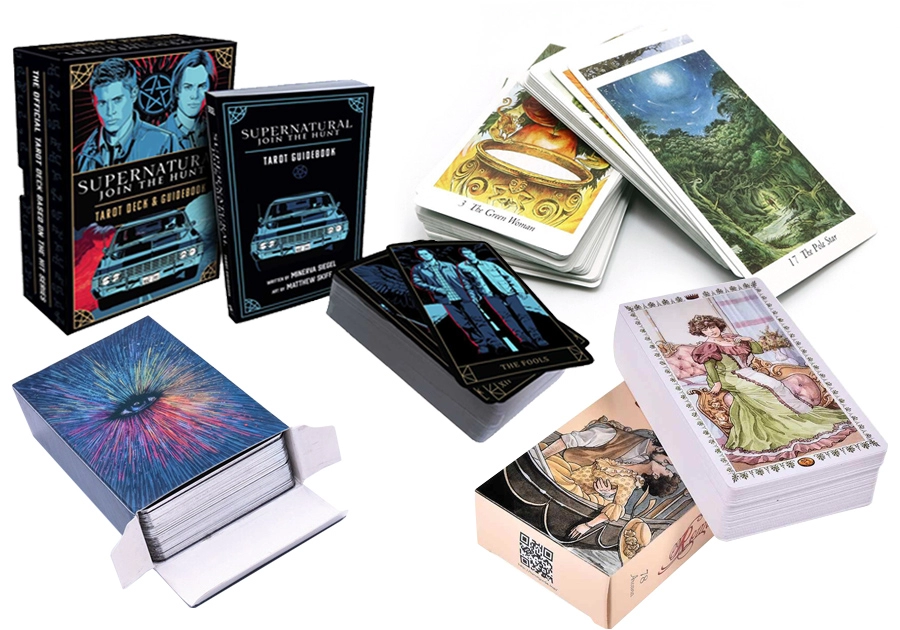 PRICING INCLUDES DISCOUNT
Order 100 - 199 sets
Order 200 - 499 sets
Order 500 - 999 sets
Order 1000 or more

:
:
:
:

-10% (Digital Print)
-20% (Digital Print)
-25% (Offset Print)
-30%
(Offset Print)
Custom Tarot & Game Card
Custom Playing Game Card Printing

Bali Print Shop playing cards are also fully bendable from end to end without creasing or going out of shape. The flexibly of the cards are the same so you can be rest assured your cards will last the test of time and robust enough for any use.
All our cards have card stock options including smooth matte and gloss laminate finishes. Matte finish uses a for tabletop game cards and promotional use. We offers a more superior durability and is more mark resistant without forgetting the importance of the shuffle and deal with ease requirements.
Our custom print cards are perfect for those who need complete control over how their deck of cards will look where you can upload any design to the cards face and back. Choose to customize cards count in a deck. Perfect for those looking to create custom trading cards, tarot cards, game cards or any other custom card decks for any other purposes.

Fullcolor Customized Tarot cards

If you're into Tarot card reading, our printed tarot cards maker will be a perfect addition to your professional services. Simply send your designs to us. All cards are printed with full color and can be each individually customized both front and back. If you have ever wanted to create your own tarot card decks for fun or for your business, there's no better place than to get them printed with Bali Print Shop.

Custom sized cards are the perfect choice for the gaming industry such as casinos as they are a little slimmer in width for easier handling





Each deck of cards can shrink-wrapped with optional packaging / box for each deck: tuck box and Shrink-wrapped. Each box is also can individually shrink-wrapped prior to being securely packed for delivery.