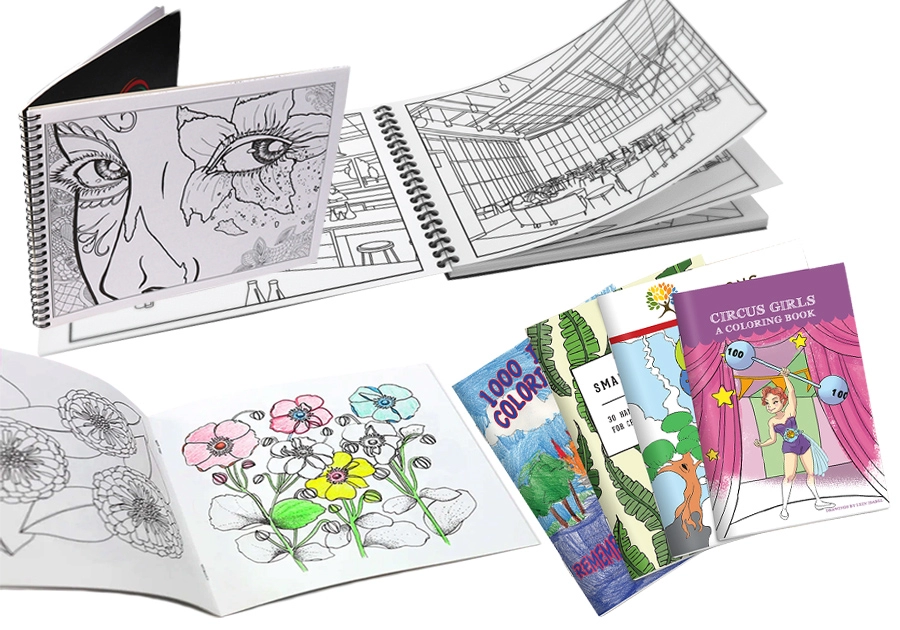 Product Info
Cover
:
Artpaper, Print color
Content
:
Black/White Print
Coloring Book
Custom Coloring Books Printing in Bali
Coloring Books have seen an amazing resurgence in popularity. For decades, coloring books have been created for children to encourage creativity as well as to develop fine motor skills and eye-hand coordination.
Coloring is not just about media and coloring design, there is another equally important component to developing focus.
Whether designed with simple images for children or intricate patterns for adults, almost all coloring books have a full-color cover and black line art on opaque interior pages. The full-color cover offers high visual appeal while the black line art creates distinct areas for the user to fill in with markers, crayons, colored pencils, or other drawing media.
Depending on the number of pages, most coloring books will bind with staples or the fold-type binding method. There is also a wire spiral binding option available so that your coloring book is completely flat when in the open position. Laminated covers and perforated pages for easy removal are additional enhancements to the Spiral binding.
Coloring book projects are initiated by all types of businesses and organizations, as well as by artistic and enterprising individuals. Coloring books can be produced for commercial or non-commercial purposes and can have widespread or limited distribution.
Advantages of custom-printed coloring books
Coloring Books are a Great Promotional Item - A coloring book can be created with a promotional theme or marketing message and used as a giveaway to prospective or current customers. Everyone likes to receive useful gifts for free. Plus, a quality item helps reinforce credibility and encourages reciprocity.
Coloring Books are Ideal for Fundraising - Many organizations, such as schools, clubs, teams, churches, and scouts depend on fundraising campaigns to raise money for a variety of needs. A coloring book is not only a practical and affordable item, it can be custom-printed with any content the organization desires.
Coloring Books can Educate and Inform - A medical or dental office may distribute coloring books with a health or hygiene theme. Likewise, a local firehouse may distribute a coloring book related to safety. A corporation might provide promotional coloring books that include a history of its company, or illustrations of its products and services.
Coloring Books provide Ongoing Brand Exposure - Because coloring books are tangible items and provide a useful benefit, they will usually be kept around for months or longer. By offering repeated exposure to your name or brand, a coloring book helps keep your company or organization top-of-mind to influence recall and foster goodwill.