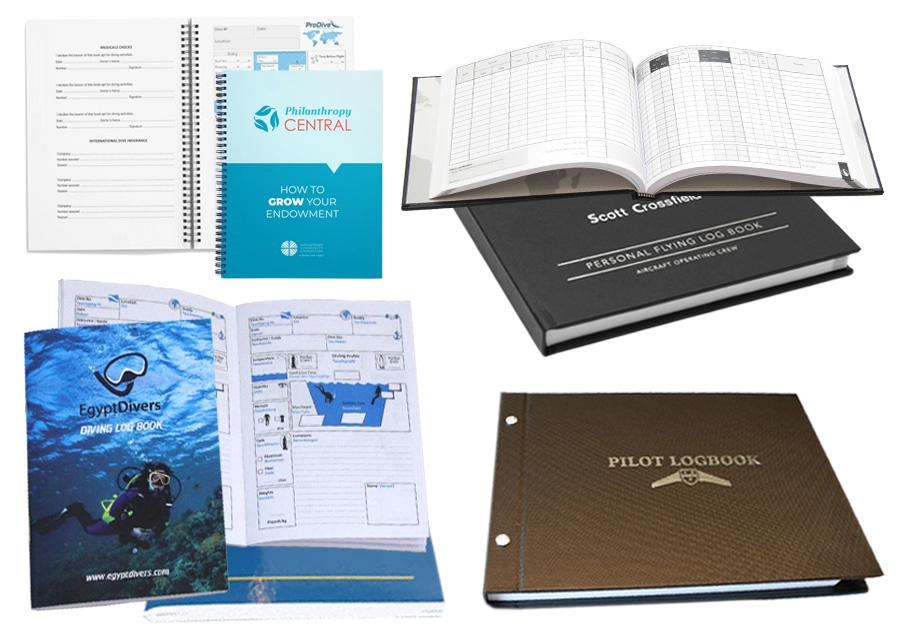 Product Info
Artwork File
:
PDF, Same content for Inner pages
Cover
:
Fullcolor Printing.
Timeframe
:
Softcover Binding : 4-7 days
Hardcover Binding : 10-21 days
or depend on order quantities
Logbooks
Custom Logbooks Printing at Bali Print Shop
Logbooks are very important in supporting documentation of various activities. The proper use of log books provides compelling evidence for regulatory agencies, auditors, legal entities and courts. Bali Print Shop offers quality logbook book manufacturing at low prices according to your design order.
Dive / Scuba Logbook printing
A printed logbook is still a great way of tracking your dives. An advantage of the paper logbook is that you can collect stamps and stickers from the different dive shops and tour operators. This is a fun way to stay engaged with the community and others.
We've even created special logs books for highly specialized dive teams, like the Dive Rescue Team.
Aircraft, Aviation and Pilot Logbooks
It is hard to imagine an industry where timely and accurate records are more significant than aviation. Logbooks MahaMeru Bali produces and brings only the top quality pilot logbooks.
We print custom pilot logbooks for professional pilots, cabin crew, aircraft maintenance. engine maintenance, and propeller maintenance.
Yacht and Vessel Log Books
Vessel Logbooks have become one of the most popular custom books for the seafaring industry. No matter the size of your ship, custom printing Logbook Books are the perfect way to record data to ensure that everything runs smoothly.
Elevator (Electric/Hydraulic) Logbooks
Elevator safety is one of the top concerns in any building management. Keeping accurate and timely records of the state of elevators is absolutely crucial to ensure the safety of all people using it.
Visitor, Security, and Gate Entry Log Books
Keeping track of visitors, employees, maintenance personnel, etc. is an important aspect of many businesses and organizations. Custom Log Books printing at Bali Print Shop provides you with high-quality and durable books.
---
Book Size and Orientation
The size of the logbook depends on its intended use. If you need a book to be frequently carried around then you may want to go with a smaller size log book. It is generally advised to fit the inspection procedures and details of at least one full day or shift on one page to keep things organized.
The orientation of your book depends on the page layout. By now you have probably noticed that some options depend on the design of your page - it is best to finish that first.
Logbook Binding
When ordering a hardcover binding book you can use your own cover design for front and back cover, including on the Spine. When books are stored on a shelf, only the spine may be visible - in this case you may opt for a title on the spine.
The short of it is that hardcover books are usually more durable and provide more reliable evidence in court.
Wire-o Spiral bound logbooks are generally more affordable and can be easier to write in as they lay flat when open, or bend all the way back.
For more economical choice is to use stapled binding, on the center of page and the sheets of paper will be folded. For this option, consider do not use too many pages.
Inner Pages
You will need to decide on printing on two sides of the sheet, or just one. A page is one side of a sheet of paper, so if you select one sided printing then there will always be a blank page on the other side of the sheet of paper. This could be useful if you need to write with heavy inks or markers, or any other special consideration. However, in most cases it is not needed as we print on 70gsm office paper that won't bleed through. The default are double sided pages (printing on both sides of the sheet).
You simply need to enter the number of pages in above page count input and we will calculate the sheets. For example, if you print on each side (two side print) of the sheet and need 60 pages, then will use 30 sheets of paper.