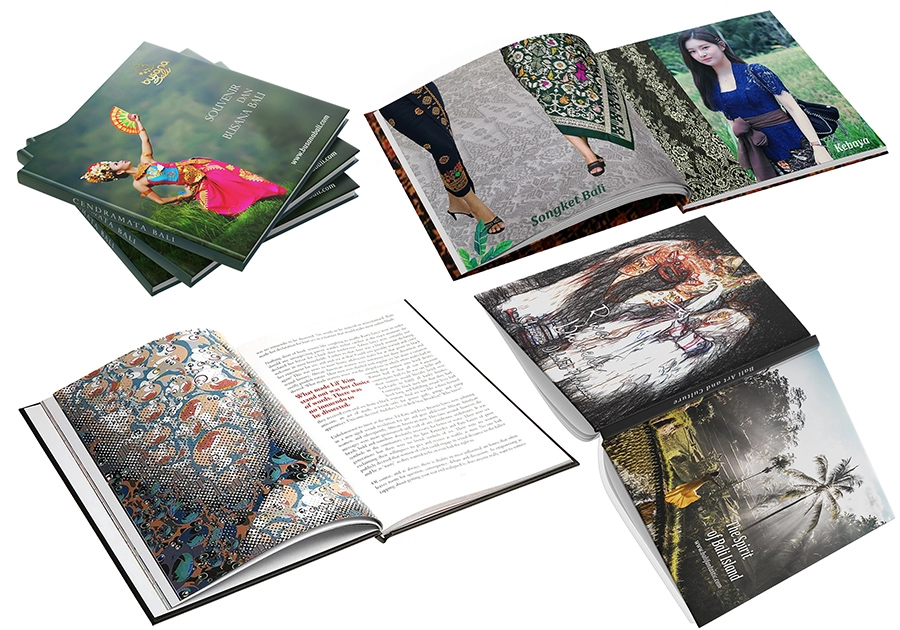 Product Info
Cover
:
Full color Print
Content
:
Full color Print
Binding
:
Perfect Binding (Hot Glue)
Hardcover Book
Hardcover Book Printing in Bali
Hardcover books are the most popular book type and the ones we are asked to print most often. Sometimes referred to as perfect bound with hardback paper they are perfect for any printing need. Album, Photography book and autobiographies are all usually printed as hardback books.
There are lots of reasons to choose to print your book as a Hardcover. They are more expensive cost than
Softcover book
, they are more exclusive, and are need more time to finish.
Bali Print Shop
print Hardcover books in a range of sizes; A6, A5, A4 or a custom size of your choice. The size you choose will depend largely on what your book is. Most books are printed A5, but album, workbooks, reference guides and training manuals are often better in A4.
Should I print my book in color or in black and white?'
There are a number of factors that would contribute to the decision. If your book is plain text, then the decision is simple. Black and white all the way. But if your book features images you have a decision to make.
Black and white inner pages printing is less expensive than color; our online price option can demonstrate the cost difference for you.
If your book relies on images or full-color illustrations, or if you've written a photograph book, they often look much better in full color.
Book Pages and Binding
Perfect bound / Hot Glue binding need to have a minimum of 60 pages or depend on paper thickness, and a maximum of 500 pages in order for the binding process to be effective. If the book has too few pages the glue might not take properly, and if it has too many the insides might become too heavy and break up the glue.
If you do need to print fewer than 50 pages, we recommend our
booklet printing service
. This uses stitch binding and as such there are no minimum page quantity restrictions.
You will also need to decide what paper type you are going to use for your book. There are two common mistakes you need to avoid here. Many people either go for the thinnest paper to save money, or the most expensive assuming it will result in a better quality book. Whilst that can sometimes be true, it's often not the case.
For text books (where the printing doesn't cover the complete page) we suggest you leave a minimum of 18mm margins (white space) around all four edges of your text. If your book has pages that are printed across the whole page (no margins) we suggest that you add a bleed.