Hotprint, Emboss & Die Cut
While we are known for our high quality 4 color printing,
Bali Print Shop
offers a wide variety of special custom printing effects. Our design and technical experts can help you find the right approach to an exceptional printed piece that will highlight your products and services and increase your marketing success.
---
HOT PRINT (HOT FOIL STAMPING)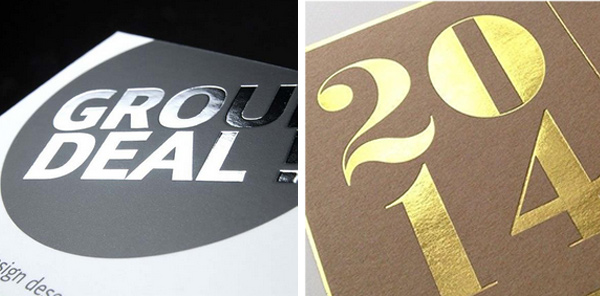 Nothing says "fancy" like foil stamping, but what exactly is it? Foil stamping, hot stamping or hot foil stamping is the application of pigment or metallic foil to paper using a heated die. The die presses the foil onto the surface under pressure, leaving the design of the die on the paper.
Foil stamping, or foil printing is frequently combined with embossing to produce a three dimensional image.
Types of Foil
There are many color of foil that can make your printed piece pop.
Metallic Foils have a metal-like sheen and a shine or shimmer, and come in a variety of colors, such as gold, silver, green, blue and red.
Holographic Foils use the transfer of a hologram image onto unique foils. Holographic foils add a dramatic effect that often provides a "high-tech" look.
Benefits of Hot Foil Stamping
Greater brand perception: research shows that by adding gold foil printing or other interesting effects to your piece, consumers perceive a higher value and quality of your product.
Attention-grabbing effects: foil stamping helps make your printed piece stand out from the crowd with its distinctive and eye-catching appeal.
What can you Foil Stamp?
Foil can be applied to most paper stocks. However, the ideal paper stock for metallic foil or other foil stamps is gloss & matte laminate cover or other stocks with a smooth surface. Linen or other textured papers can be a challenge for foil due to their uneven surfaces, as the foil may not look as crisp.
Business cards, brochures, presentation folders, greeting cards, note cards or invitations are some of the endless possibilities that you can foil stamp. Add a touch of class to your marketing materials with elegant and affordable foil stamping.
Because of the extensive setup involved, a minimum quantity of 500 pieces is required.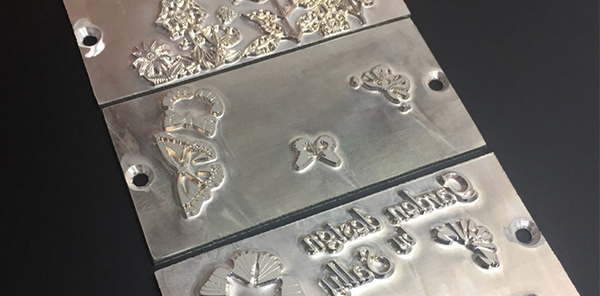 EMBOSS / DEBOSS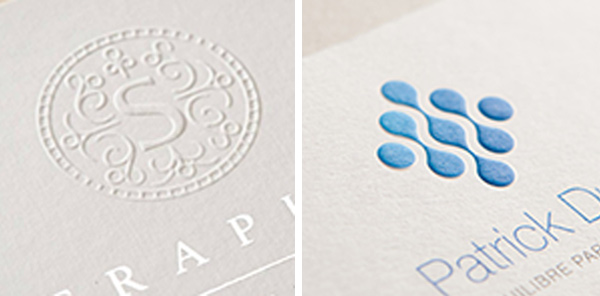 Embossed printing is an elegant way to add a unique look and feel to your marketing piece. Embossing is the process of using male and female etched dies (typically made of magnesium, brass or copper) and heat to raise or push letters or a design above the surface of a sheet of paper; it creates an eye-catching three-dimensional effect. The embossing die is made with a reversed image of the design. When this process creates an indented image, it is known as debossing. Computer controlled milling machines or hand sculptured engraving are used to convert the graphic image to the metal embossing die.
A good example of paper embossing that many of us have seen (and felt) is a notarized document. Embossed printing pieces can be used without ink or foil (known as blind embossing), or with ink or foil such as gold, silver or many other colors, adding another distinctive and visually appealing element to the embossed piece.
Embossing Techniques or Die Styles
Embossing is available in a number of different die styles, each having a distinct appearance and optimal use based on what type of element is being embossed.
Round dies produce an image that is curved at the edges.
Flat dies produce a straight edge good for embossed type or hard shapes.
Sculptured dies produce an almost 3D appearance using multiple layers.
Bevelled dies create sloped sides that are good for deep embossed effects.
How to use Embossing
Embossing is a technique that's perfect for adding a touch of class and individuality to your printed piece. It works well on many types of printing products, including: Business cards, Letterhead and envelopes, Presentation folders, Postcards and Rack Cards, Brochures, Invitations, Certificates, Greeting Cards and more.
Many elements and images in your design can be embossed, including text. The most effective embossed pieces use a detailed die and heavier paper stock to highlight the depth and detail of the embossed graphics or images.

Also, with the addition of colored metallic foil stamping as shown in this image, the emboss really stands out, both literally and visually. It is a great way to draw out and highlight important details, such as names, designs or logos. A combination embossing die and foil stamping die is needed for this process.
DIE CUTTING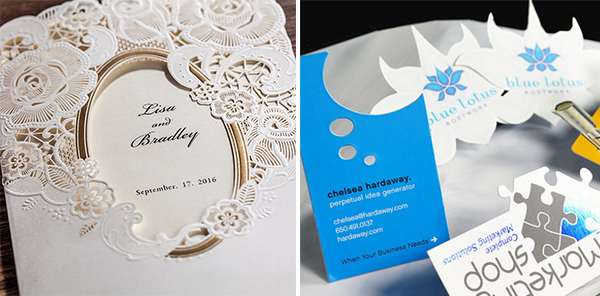 A die cut is created by using a sharp steel blade formed into a specific shape, then cut through the paper. Think about how a steel cookie cutter would work; just substitute the dough with paper. The shapes for die cutting are nearly limitless circles, squares, holes, curves, stair-stepped, rounded corners, sharp points, just to name a few. The die cut form, or "die", is usually customized to the piece it is creating, and it creates a very crisp, smooth edge that can include fine detail and a very distinctive look, which cannot be achieved with a standard cut. Take a look at the video to see die cutting in action, and the finished piece.
How is die cutting done?
Die cutting starts with a die consisting of a sharp thin metal blade formed into the shape that will be cut out of the paper or other substrate. The die is embedded into a block of wood that is securely held in a die cutting press. The paper is fed onto the die and they are both pressed under pressure against a metal plate or cylinder, cutting the shape into the paper. In most cases, tiny uncut ticks are left around the edge of the shape to hold the cut shape in the parent sheet until it can be stripped out later by hand. This is done to facilitate easier handling of the die cut sheets of paper during processing.
Why you should use a Die Cut
Die cutting sample As you look for ways to add a die cut to your piece, think about the purpose of it, and what kind of message you want to deliver. Are you looking for a classic shape, such as an effect of a family crest or scrollwork? Or perhaps something wild or unique, like the top of palm tree, a car, and the wings of a bird or even a butterfly?
As well, your industry can provide additional creative direction. Construction companies, real estate agents or architects could use the outline of a roof or building, restaurants perhaps could use the corner of a napkin or even a fork or basil leaf; the possibilities are nearly limitless.

The real benefit of using a die cut is to get a potential customer to do a double-take, take a closer look, and check out what you have to offer. Sometimes it is that critical few seconds that can result in your business card, brochure or rack card being ignored or held onto and followed up on, just because of a unique finishing option—the multipurpose die cut.