Why Need Custom Logbook Printed for your Scuba Diving Club?
Custom scuba diver logbook printing make a fantastic gifts for your favorite divers, or for yourself! You can make a custom logbook to commemorate a group trip, or a special logbook for your club or family.
We've got a whole list of reasons why dive shops benefit from customized dive logs.
WHAT ARE SCUBA DIVERS LOG BOOKS?
There are many reasons why you should log your dives, like to record the number dives you've had, the scuba gear you wore, what you struggled with in your dives, or the places you've been. If you are new to scuba diving, it is recommended you keep a logbook to help track your progress as a diver.
Diving log books are tools scuba divers use to keep a record of their dives. While there are many dive logs in the market today, most dive logs will usually contain basic information such as:
Date and location of the dive
Depth (Maximum and Average)
Dive Time (Starting, Ending, Duration)
Starting and Ending Tank Pressures
Water Temperature
Other dive log books will also allow you to include information like:
scuba diving equipment and gear used
dive site description and conditions
dive experience and what you saw
name of your dive buddy and dive shop
When you start getting your scuba diving certification, one of the things your instructor will teach you is to log your dives. It is a diving best practice to log your dive as it gives you an idea of what transpired during your dive.
There are many reason why you should log your dives and here are some of those reasons. Just remember 3 S's: For Safety, Skills and your Sweet memories!
SAFETY
Logging your dives is a good safety practice, especially for new divers, because it reminds you to keep a note of your depth and time underwater. Dive log books will help you track if you are diving within your limits and following your dive plans.
When you are a new scuba diver or do not scuba dive often, your dive log book serves as proof of how many dives you have done. Many reputable dive shops will ask you to present your dive log book so they can assess better how experienced you are. In some cases, presenting your certification card might not be enough, especially if you are doing more advanced or challenging dives.
In the event of a dive accident, the logbook may contain valuable data about the diver's experience in the past and other factors that may have led to the accident itself. In addition, logging the dives serves as a proof of experience for further courses.
SKILLS DEVELOPMENT
Diver log books also encourage you to take note of your personal statistics to see how you are progressing as a scuba diver. When you compare your first dive to your most recent one, you will see how much you've improved and how much more you can improve. If you are struggling with your diving skills your dive log will be a helpful tool to note these things and work on them.
Divers who also want to take additional scuba diving certification or become a dive professional are required to have minimum number of dives. Your dive log book will be a good way to prove that you are an eligible candidate for the additional scuba certifications.
SWEET MEMORIES
Your diving log books will also help you remember those sweet, sweet diving memories. If you are doing multiple dives a day and hundreds of dives per year, keeping track of what happened can be very confusing. Your dive log books can contain information that will help you remember dive sites and dive experiences that you've made throughout the years.
PRINTABLE DIVING LOG BOOKS
Traditional diving log books involves logging dives using your pen and paper. These diving log books have pages and can come as booklets and binders.

Printable diving log books are great alternatives for those who like logging dives on traditional paper. Downloadable dive logs are great for those who like DIYs (Do It Yourself). You can buy them once at an affordable price and print them as many as you want.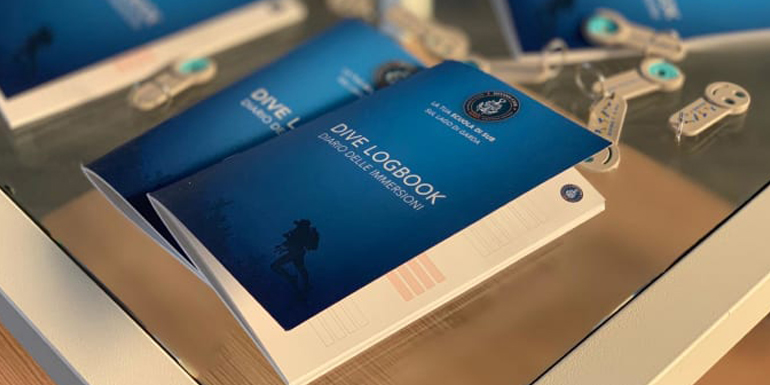 Custom Printing, is a perfect logbooks for your brand club
Increased Revenue
Sell the dive logs in your store. With our low prices, you can mark up the product to help you meet your fiscal goals.
Brand Exposure
Branded dive logs will help you to expand your brand. As patrons travel, they become brand ambassadors for you!
Great Giveaways
Branded dive logs are excellent and practical giveaways. They are cheaper than hats and shirts, and more useful!
Pages Made For Writing
The inside pages are normal paper. This is way better than waterproof pages because it is easier to write on, ink stamps don't smear, and who is dripping wet when writing in their log anyways?
Personalized Log Pages
The entry page that you can customize, is a simple checklist with all the important details you want to note down, and without all the things you don't want to write down.
Do you sometimes feel lost in a sea of similar dive shops? We can help you stand out against the rest with a custom dive logbooks printing branded just for you. The custom order process is extremely easy and the logs are super affordable.